Meet the Team at Vision Dental
Along with our dentist Dr Stephen Suster, the team at our Menai family dental clinic has years of experience in oral health care. Together, we strive to make your visit to Vision Dental one that's both enjoyable as well as informative.

Maxienne Uncle – Dental Assistant
Maxienne completed the Cert III in Dental Assisting in 1999, and has 20 year's experience working as a dental assistant. She has been working with us since January 2017 and has lived in the Menai area for 12 years.
Maxienne enjoys using her experience to provide patients with high quality care, reassuring patients that they are in capable hands and making sure they are well looked after.
When she isn't working, Maxienne enjoys family time with her husband and five children, and likes to relax watching her favourite shows and movies on Netflix.

Yolenda Coelho – Receptionist/Front Desk Coordinator
Yolenda Coelho has over 10 years experience in the dental industry. She has a warm friendly nature and enjoys interacting with our patients. Yolenda has been with us since October 2014, and has lived in the Menai area since 1998.
Prior to joining our team she was "a stay at home mum" for six years. Even though her four children kept her very busy, she felt it was time to re-enter the workplace in a stimulating and productive environment. Outside of work Yolenda enjoys watching her children play sports, dining out and spending time with her family and friends.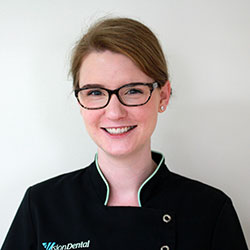 Holly Oldridge – Dental Assistant
Holly has over 7 years experience in the dental industry and has worked in healthcare for over 10 years. She has a positive and friendly personality and enjoys getting to know all of our patients. Holly grew up in the Menai area and and has been working with us since April 2019. Her favourite part of working at Vision Dental is helping to make a positive change in patients lives through their dental health while making them feel as comfortable and relaxed as possible.
Holly enjoys spending her spare time with her family, playing with her daughter and doing creative hobbies.

Want to Learn More?
Contact our Menai dental clinic today to schedule your next visit with us. Same-day appointments are available!

Vision Dental | (02) 9543 4222