About Vision Dental
Welcome to Our Menai Dental Clinic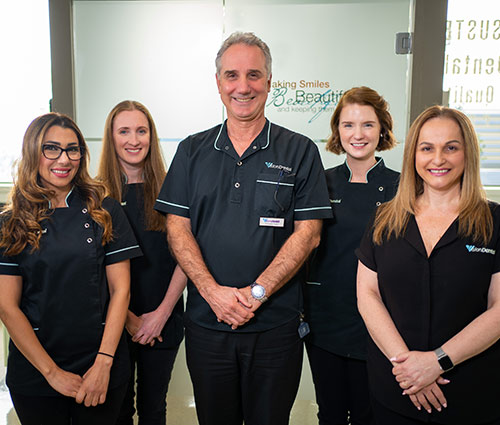 Our family and cosmetic dentistry office in Menai was originally founded by Dr Stephen Suster (Dentist) in 1990 and relocated to our current location in 1999. The name of our practice, Vision Dental, was inspired by our vision of providing dental care beyond typical services. As part of that vision, we consider the patient a partner in their approach to care.
Philosophy of Care
Vision Dental aims to provide quality care that surpasses your expectations. We do this by using the highest quality materials, latest proven techniques, in the most modern facility available, setting a world benchmark in quality patient care.
Your Experience
Each of our rooms are equipped with a television mounted on the ceiling to help you take your mind off of things, or simply keep you entertained. You can even bring your own favourite movies to watch while you're here. Informative brochures and slides are perfect for explaining processes of care and recovery.
Our Technology
State-of-the-art equipment and technology mean that we're able to provide earlier diagnostics and intervention for our patients. Through early intervention, we preserve maximum tooth structure and reduce the need for extensive treatments in the future.
We do this by utilising technology such as:
3D Cone Beam CT Scanner for high resolution imaging for root canals, TMJ treatment and implant therapy
Diagnodent dental laser for early cavity detection
Dental lasers used in lieu of surgical tools for procedures like biopsies, gum recontouring and children's dentistry
The Magic Wand, which offers a virtually painless alternative to traditional anaesthetic injections
[/notebox]
Book Online
Whether you need gentle treatments for your child, or a complex smile makeover, your specific, individual concerns are always our top priority. Our friendly atmosphere is exactly what you've been looking for. Contact us today to schedule your first visit to our Menai clinic. Ask about our new patient complimentary evaluation.

About Vision Dental | (02) 9543 4222