Protective Mouthguards in Menai
Saving Smiles and Preventing Famage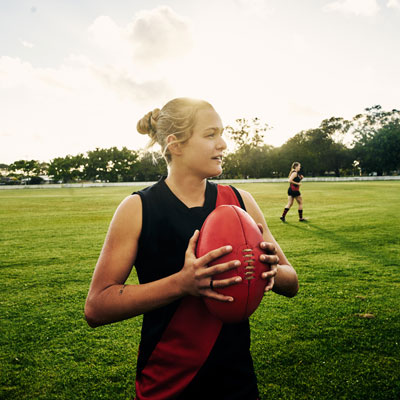 At Vision Dental, our Menai family dentist wants to help you protect your smile from accidental trauma. One of the ways we do this is by creating custom mouthguards that can be worn during athletic activities.
Not only do mouthguards prevent broken or avulsed teeth during sporting events, they also cushion hits to the jaw and thereby help prevent concussions. We recommend wearing one during every contact sport, as well as activities such as gymnastics or football.
If Your Child Breaks a Tooth
Dental emergencies can happen when you least expect them. If your child has a tooth that is knocked out during an injury, you should attempt to place the tooth back into the socket if possible.
If not, store the tooth inside of the cheek (Just be careful not to accidentally swallow it.) Another option is to immerse the tooth in a glass of milk or saline. Do not use tap water. The faster you get to our dentist, Dr Stephen Suster, the more likely we can help save the tooth.
Why Choose a Custom Mouthguard?
Store bought guards do not provide the custom fit and security that a custom-made mouthguard can. When fitted properly, the mouthguard offers better protection and is more comfortable to wear. One-size guards are often cumbersome or fall out at the initial blow (with no protection for secondary trauma).
If your child wears braces, we also offer orthodontic mouthguards to protect the teeth and lips from unnecessary laceration.
Prevent Unnecessary Dental Work
A guard is an excellent piece of insurance to prevent emergencies like broken teeth. If you or your child has broken a tooth, or you need to have a mouthguard made, contact Vision Dental today.

Custom Mouthguards Menai, Sutherland NSW | (02) 9543 4222